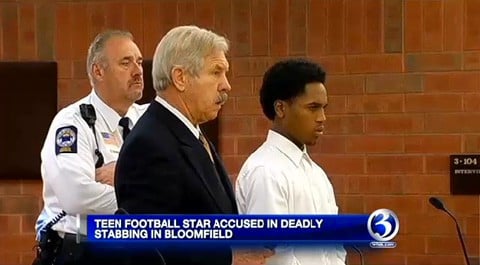 Terence Mitchell, the 18-year-old football team captain at Bloomfield High School in Connecticut is being held on $1 million dollar bond for the murder of his 27-year-old male lover Ronald Taylor Jr., WFSB reports:
Police said Mitchell stabbed Taylor five times with a steak knife, and left the utensil in Taylor's back before he managed to pull it out on his own and later dying from his injuries. At first, investigators said Mitchell lied and said the two were attacked by two unidentified black men wearing hoodies. Mitchell later confessed to the crime, according to documents.
…Court papers revealed Mitchell admitted to police that Taylor gave him pot and alcohol over the past two years, and that they had a sexual relationship, but when Mitchell tried to end it at the end of last year, "Taylor posted a picture of him on Facebook that included a blog of bad things about him, including him being a Bloomfield gay football star," the court documents said.
Mitchell also told investigators that Taylor threatened to report the photo, that Taylor would have outbursts and get jealous when he texted girls, and earlier this week even threatened him with a sword.
On Thursday, court documents said Taylor texted Mitchell inviting himself over, then announcing it wasn't going to end well. Mitchell, police said, felt threatened and put a knife in his pants pocket so he could defend himself if Taylor did anything outrageous. The documents said that after Taylor hit him in the face, he stabbed him three times in Taylor's car before he started running and Mitchell chased him.
Watch WFSB's report, AFTER THE JUMP… WFSB 3 Connecticut