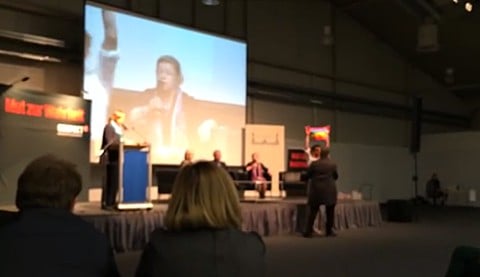 An activist in Germany disrupted a speech by Russian MP Elena Mizulina, author of Russia's law banning 'gay propaganda' during a speech she gave on Saturday in Leipzig, Germany for the right-wing magazine Compact.
Activist Wanja Kilber of the German-Russian LGBT group Quarteera was identified as the activist holding a rainbow flag with blood-stained hands in front of the stage.
Queer Russia reports: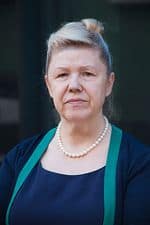 In her twitter Mizulina wrote that she and her colleagues had to "force their way through the aggressive crowd" to the conference center, while police did not hold the protesters back. As a result, Mizulina claims she got minor injuries and stressed that Russian LGBT people are more "cultured", as PiterTV reports.
During her speech, which was muffled by the protesters inside and outside the building, Mizulina claimed she came to Europe to "defend democracy", that it's time to stop acting indulgently to the sexual minorities and that an "ideologic war" against Russia is unleashed because of a "small insignificant law", meaning the Russian gay propaganda to minors ban law.
Also Mizulina claimed that not a single LGBT activist in Russia have suffered from violence during public protests because police have always protected them. The statement was met with "It's a lie!" shouts from the audience, as it contradicts with media reports of violence and injuries journalist Elena Kostyuchenko have suffered from the homophobic attack back in 2011 at Moscow pride attempt, and many others alike.
Said Kilber to QR: "Mizulina has blood of young gays and lesbians on her hands."
Watch, AFTER THE JUMP…