India launches spacecraft to Mars.

Al Qaeda group strengthens hold in northern Syria.

Mother Jones profiles Dean Young, hideous anti-gay Alabama GOP Congressional candidate.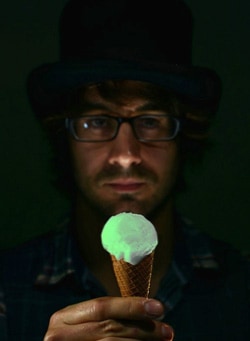 Glow-in-the-dark jellyfish ice cream?

Price is Right contestant wigs out.

Scientists think they might be able to cure Alzheimer's, Parkinson's and other diseases using lasers: "The researchers now harbor high hopes that photo acoustic therapy, which is already used for tomography, may be used to remove the malfunctioning proteins. Today amyloid protein aggregates are treated with chemicals, both for detection as well as removal. These chemicals are highly toxic and harmful for those treated."

Scott Meslow at The Week: Why Eminem is still wrong about his homophobic lyrics.

Britney Spears' new song "Perfume", penned by Sia, features sung notes.

'Family values' pastor Doug Philips resigns over extramarital affair. "There
has been serious sin in my life for which God has graciously brought me
to repentance. I have confessed my sin to my wife and family, my local
church, and the board of Vision Forum Ministries. I engaged in a
lengthy, inappropriate relationship with a woman. While we did not
"know" each other in a Biblical sense, it was nevertheless
inappropriately romantic and affectionate."

Jason Statham brings his stubble to Prestige.

Madonna's daughter Lourdes set to play 'Rizzo' in high school Grease production.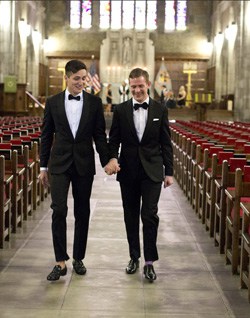 Over the weekend we reported on the historic marriage of two men at West Point military academy. The NYT has posted a photo essay of the wedding day.

Two Indiana colleges say they'll oppose the state's proposed constitutional ban on gay marriage: "In a joint release DePauw University and Wabash College said they have joined Freedom Indiana, a bipartisan grassroots coalition working to defeat the ban scheduled to be considered in the Indiana General Assembly early next year."

Over 100 same-sex couples have married in New Zealand since the marriage equality law was passed in August. "A third of those who tied the knot made a special trip to New Zealand in order to legally exchange vows."

Socarides on Kennedy's ENDA battle in 1996: "I was a White House aide assigned to assist with the bill on behalf of President Clinton, and I watched as it was defeated forty-nine to fifty. At the time, everyone was surprised that it got as much support as it did, a result credited to Kennedy's legislative maneuvering."

Suzanne Somers plotting Three's Company spin-off starring the late John Ritter's hunky son Jason.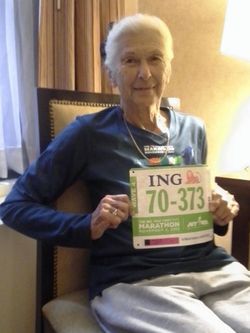 Oldest woman to run NYC Marathon dies one day after finishing race. "Johnson, of San Jose, Calif., had stumbled and hit her head on the road around the 20th mile, said her sister, Faith Anderson, 83, who accompanied Johnson to New York. Medics wanted to take Johnson to the hospital, but she insisted on continuing the race, Anderson said."

NYT continues series of articles on outing:
"If Mr. Smith had been at the bar with a female companion, no doubt the
pair would have been mentioned in a similarly gossipy news item and as a
side note we'd likely assume that he's straight."

There are many more Earth-like planets out there: "Astronomers reported that there could be as many as 40 billion habitable Earth-size planets in the galaxy, based on a new analysis of data from NASA's Kepler spacecraft.
One out of every five sunlike stars in the galaxy has a planet the size of Earth circling it in the Goldilocks zone — not too hot, not too cold — where surface temperatures should be compatible with liquid water, according to a herculean three-year calculation based on data from the Kepler spacecraft by Erik Petigura, a graduate student at the University of California, Berkeley.
"