A Russian newspaper has been accused of violating the ban on "gay propaganda" for reporting the news, The Guardian reports: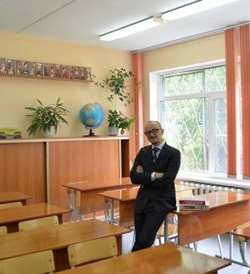 The state's media watchdog, the Federal Mass Media Inspection Service (FMMIS), sent the editor-in-chief of the Molodoi Dalnevostochnik a notice claiming the item propagated homosexual relations.
It followed a report in the paper, based in the far eastern city of Khabarovsk, that included an interview with geography teacher Alexander Yermoshkin about the circumstances of his dismissal (see details in this Moscow Times article).
After a complaint, the regional branch of the FMMIS launched an investigation. One of its officials, Galina Yegoshina, pointed to a quote by Yermoshkin: "My very existence is effective proof that homosexuality is normal."
She said: "This statement goes against logic. By offering it to underage readers, the author is misleading them about the normality of homosexuality."
The Moscow Times report about the teacher is equally horrific:
Yermoshkin, 38, had for years been holding "rainbow flash mobs" on Khabarovsk's central Lenin Square in his time away from teaching geography to eight-graders. He had never been bothered by the authorities in either endeavor.
But a few days before the start of the 2013 school year, he was told that his 18-year career as a teacher would be terminated due to a letter signed by 678 residents of Khabarovsk, representing a group called the Movement Against Sexual Perversions. The group asked for Yermoshkin to be fired from his school because he could exert a negative influence on the children and make them think that "nontraditional relations are as normal as traditional ones."
"The government in Moscow sent a signal that was interpreted by local people," Yermoshkin said with a sardonic grin, speaking in an interview at a local intelligentsia hangout called Book Cafe.