Last week we reported that Congress had passed the HIV Organ Policy Equity (HOPE) Act, a bill that will end a 25-year ban on using HIV-positive donors' organs for any purpose, including medical research. It will also lift the ban on the donation of organs from HIV-positive donors to others with HIV.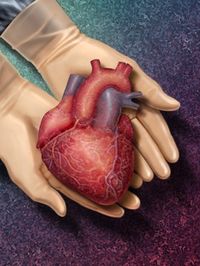 Yesterday, Obama signed the legislation, the Washington Blade reports:
"The potential for successful organ transplants between people living with HIV has become more of a possibility," Obama said. "The HOPE Act lifts the research ban, and, in time, it could lead to live-saving organ donations for people living with HIV while ensuring the safety of the organ transplant process and strengthening the national supply of organs for all who need them."
First enacted in 1988 during the peak of AIDS crisis, the ban on the donation of organs from HIV-positive donors and related research was passed by Congress as part of the Organ Transplant Amendments Act.
Efforts to repeal the ban picked up steam because now that HIV-positive people are living longer lives thanks to advances in antiretroviral therapy. Despite their new longevity, these patients are now more likely to face chronic conditions such as liver and kidney failure, for which organ transplants are the standard form of care.
In related news, the Senate voted on Tuesday to extend the President's Emergency Plan for AIDS Relief, known as PEPFAR, for 5 more years:
The legislation extends authorization for Congress to fund PEPFAR, but also calls for expanded reporting on prevention, care and treatment, and for efforts to target coinfection with HIV and tuberculosis. The bipartisan bill was introduced in September by Sens. Robert Menendez, D-N.J., and Bob Corker, R-Tenn. It is expected to be passed by the House of Representatives.