Yesterday we told you about Texas' National Guard denying housing benefits to service members in same-sex relationships, furthering a protracted battle being waged by southern states attempting to shirk Defense Secretary Chuck Hagel's orders, issued in the wake of the Supreme Court's gutting of section 3 of DOMA, that same-sex couples must receive the same federal benefits as their heterosexual counterparts. Now it appears that Oklahoma will drop all spousal benefits for National Guardsmen and women, regardless of whether they are in same-sex or opposite-sex relationships, so as to avoid having to comply with Hagel's order.
As ThinkProgress reports, Oklahoma Gov. Mary Fallin (R) insists that complying with the federal government's orders to provide benefits to same-sex couples would violate the state's ban on same-sex marriage and "the will of the people":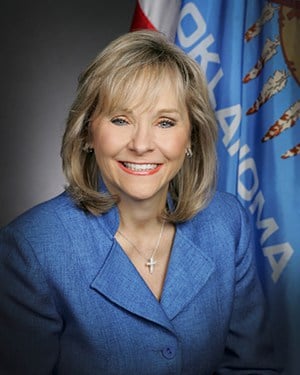 FALLIN: Oklahoma law is clear. The state of Oklahoma does not recognize same-sex marriages, nor does it confer marriage benefits to same-sex couples. The decision reached today allows the National Guard to obey Oklahoma law without violating federal rules or policies. It protects the integrity of our state constitution and sends a message to the federal government that they cannot simply ignore our laws or the will of the people.
Fallin's tactic mirrors other attempts to punish an entire group to avoid serving the gay community. When marriage equality came to the District of Columbia, Catholic Charities decided to stop offering partner benefits to all employees to avoid having to provide them to any employee's same-sex spouse. In various states, Catholic Charities has also abandoned all adoption services to avoid having to provide them to same-sex couples.
Schools have also employed this strategy to try to block gay-straight alliances from forming. In 2011, for example, Flour Bluff Independent School District in Corpus Christi, Texas considered banning all extracurricular clubs to avoid allowing a GSA to form.