If you've been following recent reports on American right-wingers Scott Lively and Brian Brown, you may recall that they both recently traveled to Russia to attend a meeting of a virulently anti-gay group called the World Congress of Families, which is planning a Moscow Summit in 2014.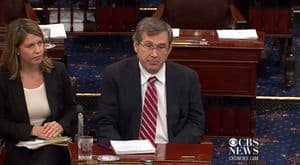 Well, the group had recently planned a meeting in D.C. and had reserved a meeting room at the Dirksen Senate Office building, until it was shut down by Senator Mark Kirk (R-IL), Buzzfeed reports:
"Shame on you, Senator Kirk, for allowing vocal radical sexual minorities to drown out the voices of the natural family and faith that have made our nation free, prosperous, and stable for more than 200 years," said Larry Jacobs, managing director of the World Congress of Families in an email to BuzzFeed. "Obviously Senator Kirk doesn't care about families and children and freedom and has chosen to side with the policies of decline, death and disease promoted by the Sexual Radicals."
A spokesman for Kirk, Lance Trover, told BuzzFeed on Thursday night, "Sen. Kirk doesn't affiliate with groups that discriminate."
The meeting planned in D.C. was billed in a WCF press release as a discussion of "what can our pro-family legislators learn — positively and negatively — by studying our colleagues' actions abroad" according to Buzzfeed.
HRC had denounced the meeting in a press release:
These shameful individuals represent the worst of America, and it's an outrage that they will now bring their vitriol to the United States Capitol. After spending years exporting their hate to other regions of the world and contributing to a culture of anti-LGBT violence in Russia, these zealots should be condemned by all Americans and especially by our elected leaders."
The roundtable discussion, hosted by the World Congress of Families, will occur this Friday from 11:00 AM to 1:00PM in Dirksen Senate Office Building, Room 562. Entitled "Family Policy Lessons from Other Lands: What Should America Learn?," the event is presented in innocent-sounding language, but the biographies of the participants reveal their malicious intent.
Three of the four panelists, Austin Ruse, Allan Carlson, and Steven Mosher, have traveled to Russia to meet with other anti-LGBT leaders during critical stages of Russia's recent anti-LGBT crackdown. The fourth panelist, Janice Crouse, celebrated a proposed law in Uganda that would make being LGBT punishable by death. Crouse called it a, "biblical and cultural stand against the radical homosexual agenda." For more on the panelists see this background document.