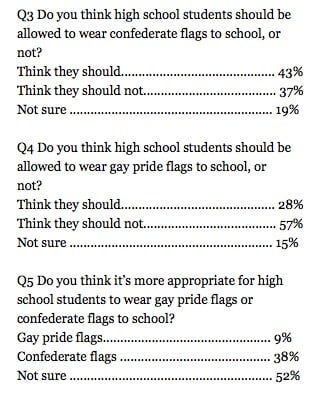 In a recent PPP poll, a majority of those surveyed support allowing high school students to wear the confederate flag to school, while a larger majority oppose allowing students to wear gay pride flags to school.
Writes Jonathan Capehart: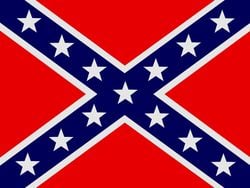 Folks, the Confederate flag is no better than a Swastika. It is a symbol of white supremacy, hate and oppression that has no place in American political discourse. That Kanye West wants to co-opt the rebel banner is as noble as it is futile. Meanwhile, the rainbow that is the gay pride flag symbolizes inclusion and acceptance. Oftentimes, usually in other countries, the words "pace" or "peace" can be found emblazoned on it. The rainbow flag is the very antithesis of the Confederate flag. That the latter is deemed more acceptable than the former is deplorable.
PPP surveyed 649 American voters, including an oversample of 400 usual Democratic primary voters and 629 Republican primary voters, from October 29th to 31st, 2013. The margin of error for the overall survey is +/- 3.8%, +/-4.9% for the Democratic portion, and +/-3.9% for the GOP portion. PPP's surveys are conducted through automated telephone interviews.