The Orlando Magic have teamed up with Chick-Fil-A for their Hot Shot Promotion: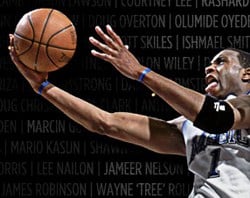 Magic fans will be able to enjoy Chick-fil-A® for free with the help of the Orlando Magic during the 2013-14 NBA season with the Chick-fil-A Hot Shot Promotion. The Magic are partnering with Chick-fil-A to offer a free spicy chicken sandwich to any Magic fan in attendance at any home game in which the Magic hit five or more 3-pointers. To redeem their free sandwhich, fans can take their ticket stub or seat locator stub/sheet into any participating Central Florida Chick-fil-A location the day after the team hits the mark.
Enjoy the taste of hate chik-in with every 3-pointer.
Chick-fil-A and its WinShape foundation have not stopped giving to anti-gay causes.