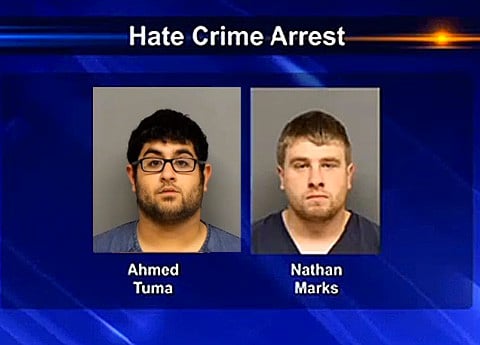 Lincoln, Nebraska police have arrested Ahmed Tuma and his friend Nathan Marks after they attacked Tuma's sister and her fiancee as they pulled up to their home, KLKN reports:
Police say 20-yr-old Ahmed Tuma was angry with his sister because she is in a relationship with a woman. Police say Tuma said it is shameful to their family and against Muslim beliefs.
Police say Tuma's sister and her fiancee arrived at home near 27th & M when he and a friend, 20-year-old Nathan Marks ran up to them. Police say Tuma tried to hit her with a crow bar. The couple escaped into their car, but police say Tuma repeatedly hit the car with the crowbar.
"They were in fear for their lives, he had made some verbal threats to kill the sister," Officer Katie Flood with the Lincoln Police Dept. said.
Police say the couple drove off, but Marks and Tuma got into Marks' pickup and followed, ramming them from behind nearly into oncoming traffic on S. 27th Street. The couple were able to get away and call police.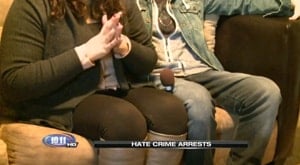 Tuma was charged with attempted 2nd degree assault, criminal mischief, two counts of terroristic threats and use of a weapon to commit a felony with hate crime enhancements. Marks was charged with aiding and abetting terroristic threats and aiding and abetting use of a weapon to commit a felony. They'll be arraigned next week.
The victim in the attack told 1011Now that she thinks if her brother succeeded in killing her the rest of the family would likely be very proud of him.
Watch 1011Now's report and interview with the sister, AFTER THE JUMP…
If the video is not working, watch it HERE.