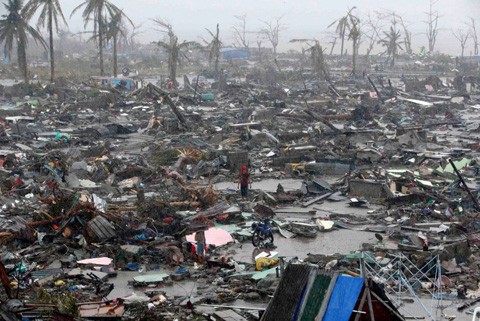 More than 10,000 are thought dead after Typhoon Haiyan leveled villages in the Phillippines over the weekend and a humanitarian crisis has unfolded. The NYT reports:
As Monday dawned, it became increasingly clear that Typhoon Haiyan had ravaged cities, towns and fishing villages when it played a deadly form of hopscotch across the islands of the central Philippines on Friday. By some estimates, at least 10,000 people may have died in Tacloban alone, and with phone service out across stretches of the far-flung archipelago, it was difficult to know if the storm was as deadly in more remote areas.
Watch the video below for a look into what is happening there.
President Barack Obama pledged U.S. support, saying "significant" humanitarian assistance is on the way to help survivors.
"Michelle and I are deeply saddened by the loss of life and extensive damage," Obama said in a statement Sunday, praising the "incredible resiliency" of the Philippine people.
President Benigno Aquino, facing one of the biggest challenges of his three-year rule, deployed soldiers to the devastated city of Tacloban to quell looting and said he might impose martial law or a state of emergency to ensure security.
Super typhoon Haiyan destroyed about 70 to 80 percent of structures in its path as it tore through Leyte province on Friday, said police chief superintendent Elmer Soria. After weakening, the storm headed west towards Vietnam.
Huge waves from one of the strongest storms ever recorded swept away coastal villages. Some officials likened the destruction to the 2004 Indian Ocean tsunami.
The Guardian has a liveblog documenting the disaster as it unfolds.
The Guardian also has a lengthy list of various relief efforts if you would like to donate to those who desperately need it.