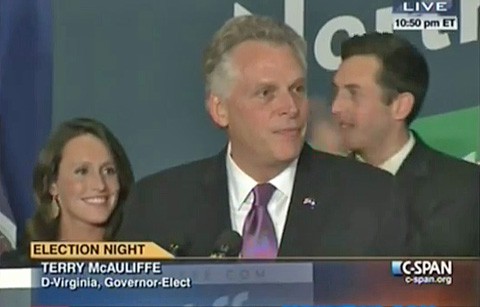 Terry McCauliffe beat homophobic Tea Party nutjob and attorney general Ken Cuccinelli last night in the Virginia Governor's race. McCauliffe won by less than 3 percentage points, a much smaller margin than was predicted.
Watch McAuliffe's victory speech, AFTER THE JUMP…
Mr. McAuliffe benefited from an electorate that was less white and less Republican than it was four years ago. He drew about as large a percentage of African-Americans as Mr. Obama did last year. Blacks accounted for one in five voters, according to exit polls conducted by Edison Research. Mr. Cuccinelli's strong anti-abortion views also brought out opponents, with 20 percent of voters naming abortion as their top issue; Mr. McAuliffe overwhelmingly won their support. The top issue for voters was the economy, cited by 45 percent in exit polls.
Politico's take on what happened:
Cuccinelli actually won independents by 9 percentage points, 47 percent to 38 percent, according to exit polls conducted for a group of media organizations. They made up about one-third of the electorate.
"Obamacare helped close the gap," said Richmond-based strategist Chris Jankowski, the president of the Republican State Leadership Committee.
Even before Cuccinelli delivered his concession speech, the candidate's close allies were beginning to blame outside groups for not helping out more.
McAuliffe outraised Cuccinelli by almost $15 million, and he used the cash advantage to pummel him on the airwaves. A lack of resources forced the Republican to go dark in the D.C. media market during the final two weeks. The Republican National Committee spent about $3 million on Virginia this year, compared to $9 million in the 2009 governor's race.
Watch McAuliffe's victory speech, AFTER THE JUMP…