Openly gay state senator Adam Ebbin (D-30th) has introduced legislation to repeal the state's ban on same-sex marriage, the Sun Gazette reports: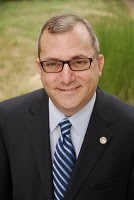 Voters statewide approved the amendment in 2006 by a 57-percent-to-43-percent majority, and while public support for gay marriage appears to have increased over the intervening seven years, any attempt to eliminate the constitutional amendment would face significant hurdles.
To repeal the 2006 amendment, legislation would have to pass the General Assembly two times with an intervening election, then would go on the ballot in the next succeeding general election. If it won first passage in the 2014 session, the measure would have to again pass the legislature in the 2016 session after the next state election, meaning the earliest the measure could go before voters would be November 2016.
The paper calls the bill's chances "a longshot".