Sirius radio host Michelangelo Signorile speaks with Grindr founder and CEO Joel Simkhai about the app, wondering how he responds to critics who say the gay dating app encourages superficiality and reduces gay men to physical ideals.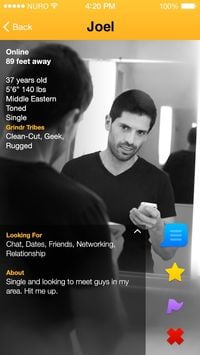 Says Simkhai:
"Fanstastic! I love it. Absolutely. Look good. I'm very proud if Grindr has forced us to up our game. To brush our teeth. Comb our hair. Eat right. Go to the gym. Be a healthy person. Cut back on the smoking. Cut back on the bad things and look your best. We're men. We visualize. We see before we hear, before we think, before we do anything else. That's how we are. I haven't changed that. That's what our evolution has taught us to do. I certainly go to the gym more because of Grindr. I'm competing with the guy a space away from me on that grid."
Simkhai also insists Grindr gives gay men hope in countries that criminalize homosexuality:
"Let's take it to Saudi Arabia and Afghanistan, and all these other countries where it's literally illegal to be gay, where there are no gay bars," he said. "Where you are not protected. Where you can literally go to jail for being who you are. Where you don't even know what gay is. You know you have these feelings but there's no one else around you who can explain those to you. Fortunately for those guys, Grindr is gay for them. That is all they understand. There is no place for them to go to other than Grindr.
Listen, AFTER THE JUMP…
More quotes from the interview including discussion of Simkhai's efforts to use the app as an activist tool over at HuffPost…