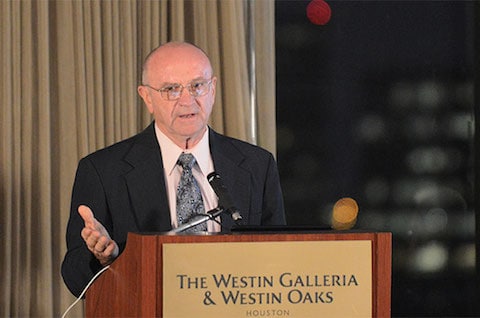 We last mentioned Dave Wilson back in 2010 when the homophobic electrician distributed anti-gay fliers to campaign against Houston mayor Annise Parker, an activity that the Houston Republican Party distanced themselves from. Wilson also ran for Harris County commissioner at the time, but did not win the election.
Wilson has now run for the Houston Community College Board of Trustees, and since blatant homophobia didn't work, Wilson tried a different tactic: deception. Specifically, by leading unfamiliar voters in predominantly black neighborhoods to believe that Wilson himself was a black man. Once again relying on fliers, Wilson filled them with random pictures of black people that he freely admits to just pulling off of the internet, adding the caption "Please vote for our friend and neighbor Dave Wilson."
Also on the fliers was the endorsement, "Endorsed by Ron Wilson." While technically true, the Ron Wilson who endorsed Dave Wilson's campaign fliers is his cousin from Iowa, not the Ron Wilson who is a black former state representative.
Wilson won the election by a mere 26 votes, so it's highly probable that his fliers deceived just enough of the 35,000 voters who received them to make a difference. Wilson is now on the Board of Trustees and the man who justified his actions with "[e]very time a politician talks, he's out there deceiving voters," and claims that "[t]he openly gay lifestyle leads to extinction," now has the power to approve the educational program for Houston Community College.