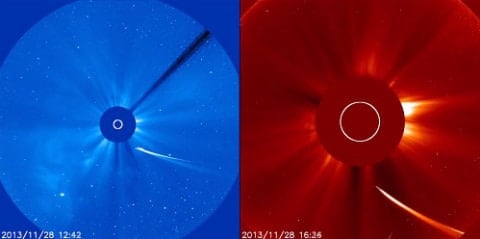 Sun-gazing spacecraft assumed that the Russian-discovered comet ISON would melt in the sun's intense heat during its perihelion orbit around Thanksgiving Day. But the European Solar and Heliospheric Observatory spacecraft (SOHO) recorded proof of ISON's survival and its subsequent formation of "an extensive fan-shaped dust tail" following its trajectory.
It's an amazing feat, considering that comets are little more than dirty balls of ice hurtling through the cosmos. Many astronomers are still wondering how the baby comet survived and how long it will stay flying in its newly diminished form.
See footage of the surviving comet AFTER THE JUMP…
The video below shows the sun in wide (blue) and narrow (red) view hours before and after ISON's trajectory around it. In both views, the sun's size is indicated by the white circle and its brightness is blocked by a larger solid disc to allow clear viewing.
Comet ISON Dives Toward the Sun from Babak Tafreshi on Vimeo.