Following Judge Robert Shelby's ruling last week against Utah's ban on gay marriage, officials in four counties (Box Elder, Utah, Piute and San Juan) continued denying marriage licenses to same-sex couples. With the 10th Circuit Court of Appeals declining to intervene and halt the ruling, however, county officials have now told the AP that they will relent.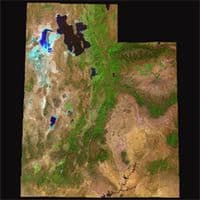 San Juan County Clerk Norman Johnson said "what finalized it for me" was Gov. Gary Herbert's order to state agencies to comply with Shelby's decision and change procedures for the delivery of state services. To that end, the Utah Department of Workforce Services is recognizing gay couples for food stamp and welfare benefits.
For Johnson, Herbert's directive was the "final straw," together with a refusal Tuesday by the Denver-based appeals court to stay Shelby's decision pending an appeal from state lawyers.
Johnson said he felt like he was being dragged into granting marriage licenses against the wishes of voters who have kept him in office for 14 years.
"We have no choice," Johnson said Thursday. "The scales have tipped. It's not the way I want to see things go. But the law's the law, and I accept it. It's time."