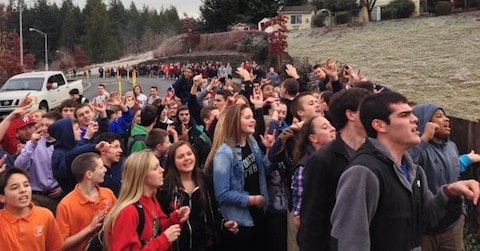 Eastside Catholic High School in Sammamish, Washington has a problem on its hands. Mark Zmuda, the former vice principal of ECHS, is gay. What's more is that Mr. Zmuda married his partner Dana Jergens last July, approximately seven months after same-sex marriage was made legal in the state of Washington. However, the Archdiocese of Seattle determined that Zmuda's actions were in violation of the teachings of the church and thus were grounds for termination.
This decision was not well-received by Mr. Zmuda's students or co-workers, many of whom broke into tears at the news. Then, the students showed the bishops that they do not have the grip on moral authority that they think they do. Rather than accepting Mr. Zmuda's termination, the entire student body staged protests, chanted "Change the church", and took to Twitter with the hashtag #KeepMrZ2013 to spread the word of their dissatisfaction.
Students from the school and within the diocese are collecting signatures in hopes that they can restore Zmuda to his position as vice principal.
Watch a news report on the massive protests, AFTER THE JUMP…