On last night's show, Rachel Maddow discussed the virulently anti-gay international American evangelists lobbying to pass anti-gay laws in Russia and Uganda, contrasting that with yesterday's federal court ruling striking down Utah's same-sex marriage ban.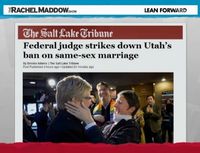 "And so the ruling came down surprising everyone by 2:00 in Utah. And by 3:00 people were marrying in that state!…Does this Utah decision today just feel like it's a different decision than all the others because – forgive me – it's freaking Utah! Or is the fact that this is a federal court ruling – does that mean that this is just more than the next step – that this could be a harbinger that anti-gay laws around the country are more done than we thought they were?"
NYU consitutional law professor Kenji Yoshino joins Rachel to discuss the ruling.
Watch, AFTER THE JUMP…