What the Mary Louise Streep is going on with AUGUST: OSAGE COUNTY? It's skipping Christmas and opening on December 27th in limited release only? Even worse, they've dropped a new TV spot encouraging you to think of it as a slapstick comedy.
Wacky hijinx!
Usually this time of year the studios opt for a more solemn approach to their Oscar contenders with self-important trailers filled with a cascading list of honors. Like…
"Academy Award Winner So and So"
"Academy Award Nominee So and So"
"Golden Globe Nominee So and So"
"That Other Guy"
But August, which is fighting hard to be taken seriously as an Oscar contender, is pretending it's a laugh riot? That's even more misleading than Frozen pretending it was a slaptick movie about a snowman.
I don't understand anything about movie distribution anymore. I have so many questions. Why is ALL THE LIGHT IN THE SKY, a talky tiny solid character study about a struggling actress (Jane Adams) opening during the worst week out of fifty-two of them for any low budget indie to win media attention? Why is LONE SURVIVOR, a mainstream war movie starring Mark Wahlberg, Taylor Kitsch, Emile Hirsch and Ben Foster pretending it's arthouse and skipping the Christmas money with a NY/LA only opening? Why does GRUDGE MATCH exist?
But on to the two biggies…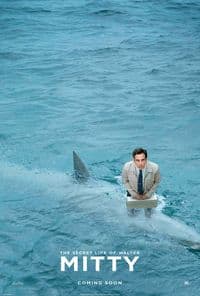 Ben Stiller stars and directs THE SECRET LIFE OF WALTER MITTY about a shy photo editor at Life Magazine who is prone to elaborately staged daydreams wherein he battles his demeaning boss (Adam Scott) or seduces his dream girl (Kristen Wiig). When he loses an important negative sent from a legendary photographer (Sean Penn), he's forced to live an actual adventure rather than dreaming about one. The movie is weirdly obvious about product placement (a compromise for what looks like a gargantuan budget?) but if you like comic fantasy and "carpe diem" uplift, this is your best bet on Christmas weekend. [Full Disclosure: I recently took a studio-sponsored trip to visit the filming locations of this movie in Iceland. My jaw would have dropped permanently from all the beauty if my face hadn't been so tightly wrapped in multiple scarves, hats and hoods. The point is this: if you don't mind the cold, Iceland is an absolute must for a weekend getaway.]
THE WOLF OF WALL STREET is director Martin Scorsese and star Leonardo DiCaprio's fifth film together. Their latest is a raucous true-story about insatiable greedy stockbrokers and their crimes. The movie isn't the duo's best (that honor still belongs to Best Picture winner The Departed) or their grandest (that's the old Hollywood glam from The Aviator) but it's definitely their boldest. No stuffy Gangs of New York Oscar-baiting this time around. Wolf is three straight hours of coke-snorting testosterone-heavy insanity as Jordan Belfort (DiCaprio) and his equally scummy friends (most notably Jonah Hill as his sycophantic co-conspirator) screw endless hookers, milk poor saps of their life savings, spew enough homophobic and misogynist dialogue to power a dozen R rated movies, and throw several 'anything goes' lewd parties. All the raunch is good for Leonardo DiCaprio. The actor had been falling into a repetitive rut but comes thankfully unstuck, even to the point of unhinged. He's giving his most energetic and physically committed star turn in at least a decade and toxic comedy is a pretty good look on him.
The Wolf of Wall Street is memorable but also bloated with repetitive scenes all played at the same shouty volume. I suspect it wants to be a satirical condemnation but it spends so much time parroting Belfort's self-serving point of view with endless shots of adoring people fist-pumping and cheering on his every crime, that it often reads as a glib 'Oops, my bad. Boys will be boys' celebration, the bro equivalent, if you will, of a pretty girl batting her eyelashes to avoid a speeding ticket. As satires about capitalism go I'll stick with the sublimely grotesque American Psycho but The Wolf of Wall Street is not without its pleasures. I'm thinking primarily of Kyle Chandler's visible bullshit-meter as an upstanding FBI agent, Australian actress Margot Robbie's baby-talking sex doll with one heel in DiCaprio's face and her hands, um, elsewhere, and both ubiquitous Matthew McConaughey and Oscar winner Jean Dujardin (The Artist) who are ingeniously cast for their pitch-perfect cameos.
If you choose to attend this debauchery, know that you can't unsee Jonah Hill's prosthetic wang. Don't say I didn't warn you. Merry Christmas! 
Nathaniel Rogers would live in a movie theater but for the poor internet reception. Follow him on Twitter @nathanielr.