Secretary of Defense Chuck Hagel released the following statement this morning: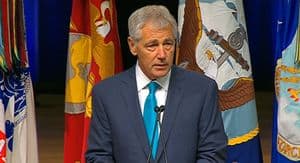 On Oct. 31, I called on the chief of the National Guard Bureau to work with several states to fully implement Department of Defense policy by providing DoD identification cards to all eligible military spouses, regardless of sexual orientation. Following consultations between the National Guard Bureau and the adjutants general of the states, all eligible service members, dependents and retirees – including same-sex spouses – are now able to obtain ID cards in every state. All military spouses and families sacrifice on behalf of our country. They deserve our respect and the benefits they are entitled to under the law. All of DoD is committed to pursuing equal opportunities for all who serve this nation, and I will continue to work to ensure our men and women in uniform as well as their families have full and equal access to the benefits they deserve.
On Monday we reported that Mississippi was the final state left which had not complied with the orders.
The Washington Blade adds:
A defense official, speaking on condition of anonymity, said Mississippi, the last remaining hold-out state, came on board sometime this week, although the official didn't have an exact date for when that happened. The official said Mississippi is adopting a policy similar to Texas, Louisiana and Georgia, which are placing state workers on federal status to process same-sex benefit applications.