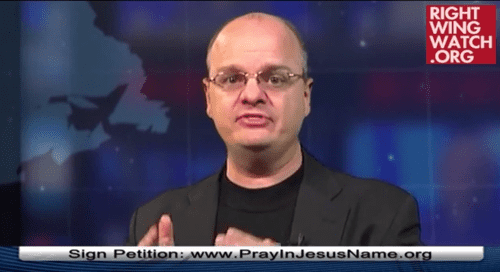 On his "Pray in Jesus Name' program yesterday, former Navy chaplain Gordon Klingenschmitt weighed in on last month's news of the gay, married Army couple that had been barred from attending a military marriage enrichment program at Fort Irwin, California. Right Wing Watch reports:
…Klingenschmitt said that was the right decision because Christian chaplains can never provide counseling to gay couples, other than to order them to divorce … which is just what Jesus would do.
"Jesus, if he were providing marriage counseling to two gay men who were married," Klingenschmitt asserted, "Jesus would command them to get divorced immediately"
Watch, AFTER THE JUMP…
Previously…
Right-Wing Host: Gay Parents Don't Love Babies, They 'Lust' for Them: VIDEO [tlrd]