Duck Dynasty star Phil Robertson spoke out about the controversy surrounding his anti-gay remarks for the first time at the White's Ferry Road Church of Christ in West Monroe, Louisiana on Sunday, and the Daily Mail was given access.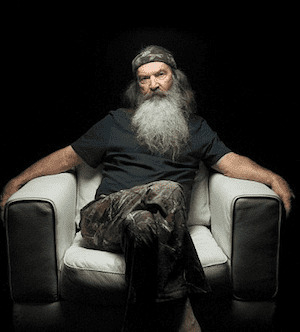 Said Robertson:
"I love all men and women. I am a lover of humanity, not a hater…I have been immoral, drunk, high. I ran with the wicked people for 28 years and I have run with the Jesus people since and the contrast is astounding. I tell people, "You are a sinner, we all are. Do you want to hear my story before I give you the bottom line on your story? … Commonsense says we are not going to procreate the human race unless we have a man and a woman. From the beginning Jesus said, "It is a man and a woman." Adam was made and Eve was made for this reason. They left their fathers and mothers and be united to become one flesh, that's what marriage is all about."
He added:
"The acts of the sinful nature are obvious. Sexual immorality, is number one on the list. How many ways can we sin sexually? My goodness. You open up that can of worms and people will be mad at you over it. I am just reading what was written over 2000 years ago. Those who live like this will not inherit the kingdom. All I did was quote from the scriptures, but they just didn't know it. Whether I said it, or they read it, what's the difference? The sins are the same, humans haven't changed. If you give them the bad news, they'll start kicking and screaming. But you love them more than you fear them, so you tell them."
Jesus will take sins away, if you're a homosexual he'll take it away, if you're an adulterer, if you're a liar, what's the difference? If you break one sin you may as well break them all. If we lose our morality, we will lose our country. It will happen. Wouldn't it be nice if we could all walk around without stealing from each other and killing each other? Why don't we just love each other enough that we wouldn't want to do these things to each other?
Robertson said he would not take back his remarks and stay the course:
"I will not give or back off from my path because you conquered death, Father, so we are not worried about all the repercussions."