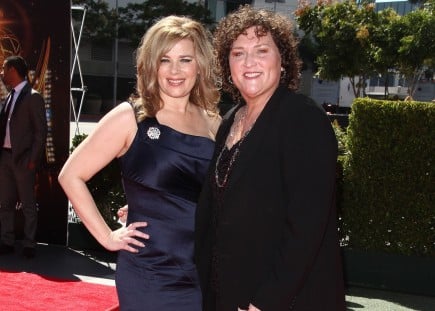 Dot-Marie Jones (right), known for her role as Coach Shannon Beiste on Glee, exchanged vows with her longtime girlfriend Bridgett Casteen at their Los Angeles home Saturday, People reports:
Close friends of Jones, 49, and Casteen were invited to a holiday party at the couple's home. The duo then surprised their guests by informing them that they were actually gathered to witness their nuptials.
The couple's engagement took place back in October at Disneyland during Anaheim's Gay Days weekend. "Thank you @dotmariejones for making me the happiest woman in the world," tweeted Casteen at the time.
Congrats to the happy couple!