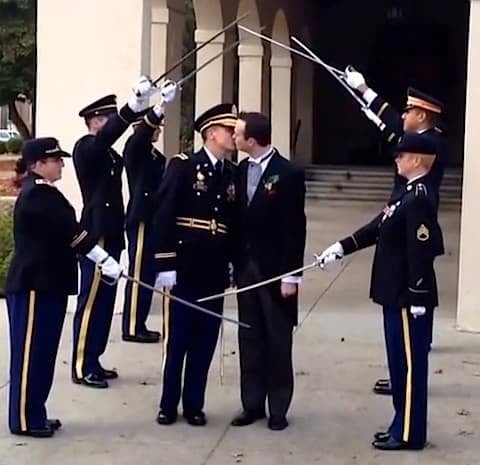 Fort Bragg in North Carolina saw its first gay marriage ceremony on Saturday as Maj. Daniel Toven and Johnathan Taylor celebrated in the historic Main Post Chapel, the News Observer reports:
Toven, 44, is commander and conductor of the Army Ground Forces Band at Fort Bragg. Taylor, 24, is a registered nurse in a Fayetteville-area hospital and a pre-med student at Fayetteville Technical Community College and Methodist University.
The couple will continue to live in Fayetteville. Toven is the son of Gordon and Mona Lou Toven of Reynoldsville, Pa. Taylor's parents are Michelle and Ben Miles of Rockingham.
Toven wore his Army service uniform, with a dark blue coat and royal blue pants, and carried his ceremonial saber. Taylor wore a morning suit: a black cutaway jacket over dark gray pants.
Watch the couple's joyful and hilarious attempt to exit the chapel in front of family and friends, AFTER THE JUMP…