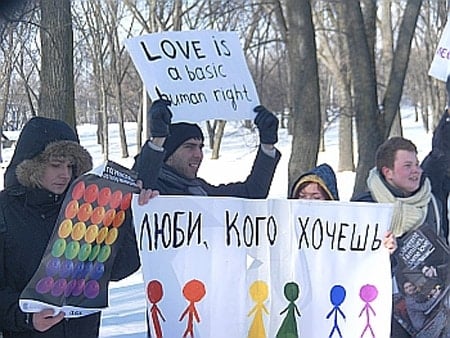 Activists say they'll proceed anyway after officials in Minsk, Belarus banned two upcoming gay rights events, Radio Free Europe reports:
Authorities blamed their decision not to allow a lesbian, gay, bisexual, and transgender (LGBT) march planned for December 11 and a gay-rights rally planned for December 12 on "technical" and timing problems.
The GayBelarus national youth civic association condemned the ban, saying that the unwillingness by authorities to discuss different formats and times for the events "constitutes deliberate contempt of civil and political rights and freedoms."
Belarus activists held their first LGBT rally ever back in 2011 but at the time were ordered by authorities not to display the rainbow flag. They got around that order by using the rainbow in other elements of their signage (above).
In 2010, riot police put a violent end to an LGBT rights rally.