Green Bay Packers quarterback Aaron Rodgers responded today to rumors that cropped up earlier this week alleging he has been in a relationship with a man.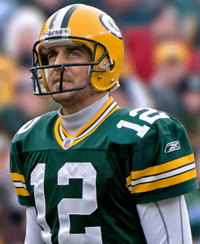 The Mercury News reports:
"I'm just going to say I'm not gay," Rodgers said Tuesday on 540 ESPN Milwaukee. "I really, really like women. That's all I can really say about that."
That topic came up when he was asked about the positives and negatives of being a celebrity, to which the Chico native and Cal product talked about the "uncool side" of dealing with "crazy rumors."
"There's always going to be silly stuff out there in the media which you can't worry too much about, and I don't," Rodgers said. "So, just, keep on trucking. I think professional should be professional, and personal is personal."
Listen to the audio:
The rumors, published by gossip site The Fame Driven, alleged that Rodgers, fresh off his recovery from an injured collarbone that kept the former Superbowl MVP off the field for 8 weeks, has been in a relationship with his longtime personal assistant and roommate, Kevin Lanflisi. Lanflisi and Rodgers met while Lanflisi was an intern for the Packers.
The 'spy' also drew attention to a series of since deleted tweets from Lanflisi's Twitter account that show Lanflisi trying on Rodgers' Super Bowl ring and suggest the pair's relationship was more than platonic. 
Rodgers, for his part, mentioned Lanflisi in interviews, saying in 2008,
"He's been great for me as far as great conversations outside of football," he said. "Our friendship goes a lot deeper than what we do."
And in 2011,
"I kind of judge how those people are based on how they are to people like Kevin," Rodgers explains. "Kevin, he's not a famous person. I want to see if they give Kevin the time of day, or if they big-time him."
The site's sources also speculated that Rodgers was one of the rumored NFL stars set to come out of the closet this past summer and his decision not to come out caused a rift between Rodgers and Lanflisi, ultimately leading to their break up. 
You can check out some more images of Lanflisi's deleted tweets, AFTER THE JUMP…