The Utah Attorney General's office has filed a request with Justice Sonia Sotomayor at the U.S. Supreme Court for a stay pending appeal of Judge Robert Shelby's ruling striking down the state's ban on same-sex marriage
Sotomayor could rule on her own or ask the rest of the court to weigh in.
The Washington Blade reports:
Attorneys for Utah officials — Gov. Gary Herbert (R) and newly sworn-in Attorney General Sean Reyes — filed the 26-page stay request with U.S. Associate Justice Sonia Sotomayor, who's responsible for the Tenth Circuit.
"As a result of the district court's injunction, numerous same-sex marriages are now occurring every day in Utah," the request states. "And each one is an affront not only to the interests of the state and its citizens in being able to define marriage through ordinary democratic channels…but also to this court's unique role as final arbiter of the profoundly important constitutional question that is so carefully preserved in Windsor."
The Blade adds:
Now that the stay request is before the high court, Sotomayor has the option of referring the request to all of her colleagues on the bench, who would provide the final word on whether a stay would be granted on same-sex marriages.
However, if Sotomayor goes it alone and decides against the stay, Utah officials may select any justice on the Supreme Court — such as a justice with an anti-gay reputation like U.S. Associate Justice Antonin Scalia — and make a final attempt to request a stay.
Doug NeJaime, who's gay and law professor at the University of California, Irvine, said he expects Sotomayor to refer the request to the entire court, but isn't able make a prediction on what will happen.
Read the state's application for the stay HERE.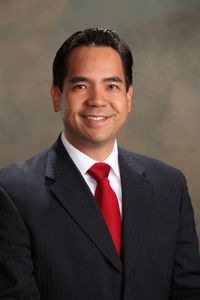 Utah's new attorney general Sean Reyes spoke about the marriage ruling in a Salt Lake Tribune profile shortly after his swearing in on Monday:
Reyes also addressed the current same-sex-marriage litigation that he is stepping into, with the state expected to ask the U.S. Supreme Court to stay a ruling by U.S. District Judge Robert Shelby striking down Utah's constitutional ban on same-sex marriages and allowing more than a thousand Utah couples to wed.
"I'm starting day one with a case involving the defense of marriage. I'm not going to talk today, at least here, about the merits of the case, but this could be a potentially divisive case," Reyes said. "I don't think it needs to be divisive. With the respect and good will from those on both sides of the issue, I think we can disagree in a healthy way and still remember we are all still Utahns."
After Monday's ceremony, Reyes was asked if he viewed marriage to be a constitutionally protected right. Reyes said "marriage, as a fundamental right, has been developed in a number of cases with the Supreme Court."
The request also comes just hours before Sotomayor is scheduled to helm the New Year's Eve ball drop in Times Square.
UPDATE: Buzzfeed adds –
"Justice Sotomayor has called for a response due by noon E.S.T. on Friday, January 3, 2014," Appellate Daily's Michelle Olsen reported Tuesday afternoon, likely meaning that Sotomayor will be able to keep her plans to lead the Times Square ball drop at midnight Tuesday to ring in 2014.