Jared Woodfill, the chairman of the Harris County Republican party, is suing the city of Houston over Mayor Annise Parker's decision to extend health and life insurance benefits to gay married spouses, the Houston Chronicle reports: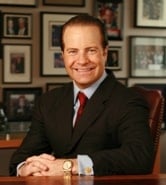 "This is one of the most egregious acts by an elected official I've ever seen," said Jared Woodfill, chairman the Harris County Republican party. Woodfill, is the lead lawyer on the lawsuit. "They just decided to, unilaterally, as a lame duck, thumb their nose at the will of the people and just spit on the U.S. Constitution."
Woodfill said state District Judge Lisa Millard signed a temporary restraining order late Tuesday, putting the new policy on hold until the matter goes before a judge on Jan. 6.
The lawsuit, filed late Tuesday in state District court, alleges that the mechanism that Parker used to enact benefits for same-sex couples violates the Houston's city charter, the state Defense of Marriage Act and the Texas Constitution.
Attorneys for the city said the lawsuit will likely be thrown out because the two men who filed it do not appear to have legal standing.