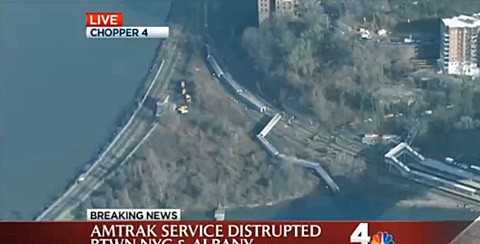 At least 4 people have died and 67 were injured when a Metro-North commuter train derailed in the Bronx early this morning, the NYT reports:
The derailment occurred when several cars of a train headed south from Poughkeepsie, N.Y., left the tracks about 7:20 a.m. near the Spuyten Duyvil station under the Henry Hudson Bridge on the Hudson Line, according to a Metropolitan Transportation Authority spokesman, Aaron Donovan.
Councilman G. Oliver Koppell, who represents the area and was at the scene, said the accident was "certainly the worst one on this line."
Rescue workers from the Police and Fire Departments converged on the scene and lowered stretchers into the train cars, which were lying nearly on their sides; one car was just above the water. The train was the 5:54 a.m. out of Poughkeepsie, and was due at Grand Central Terminal at 7:43 a.m., Mr. Donovan said.
Watch reports from NBC and CBS New York, AFTER THE JUMP…
Our thoughts go out to anyone affected by this awful accident.