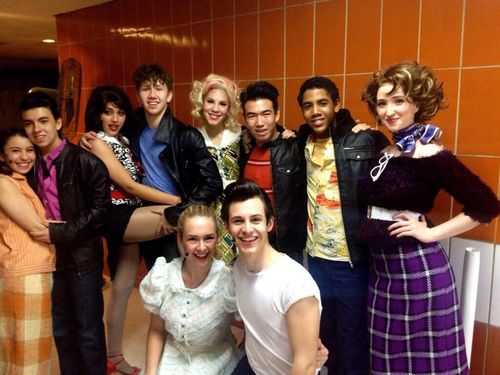 Lourdes Leon (third from left), Madonna's 17-year-old daughter, starred as Betty Rizzo in her high school's production of Grease this weekend, and took the auditorium by storm. The bad girl leader of Rydell High's Pink Ladies, played with deadpan sincerity by Stockard Channing in the 1978 film, was reportedly an excellent part for Lourdes.
Us Weekly reports:
"[She was] really good," an eyewitness told Us Weekly of Lourdes' performance. "She is a great singer, dancer and actress and seemed completely comfortable on the stage. She also seemed like she was having a lot of fun with the part."
Luckily, Lourde's mother Madonna managed to make it to at least one of her shows. A source told Us that the 55-year-old Material Girl watched her daughter with Lola's father, Madonna's ex Carlos Leon, perform on Friday, Dec. 6, but kept a low-profile in the auditorium.
In the show's program, Lourdes' bio read: "She would like to thank her parents with all of her heart for giving her guidance and love and supporting her passions wholeheartedly."
Like mother, like daughter! Do you think Lourdes will take to the stage after high school?
Listen to her soulful rendition of "There Are Worse Things I Could Do," AFTER THE JUMP…
Photo via Twitter.