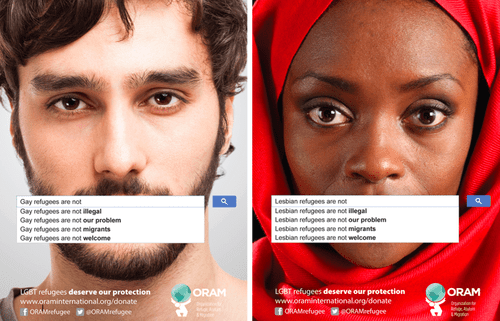 As part of Human Rights Day, which was celebrated across the world yesterday, the Organization for Refuge, Asylum & Migration (ORAM) has launched a photographic ad campaign that features the most popular Google search terms related to queer refugees. ORAM hopes that this campaign will highlight the persistent exclusion and challenges that these refugees encounter while on their journey to safety.
Said ORAM founder and Executive Director Neil Grungras:
"In the fight for civil and human rights, and during the HIV/AIDS crisis, LGBTI people and their allies stepped forward to speak up and help out. When our Russian, Ugandan, Hondurna sisters and brothers run for their lives, we must step forward again to make sure they find safe haven. We hope people will be inspired to support ORAM's work to advocate for LGBTI refugees around the world."
ORAM is asking advocates and allies to help spread the conversation on Facebook and Twitter using the hashtag #LGBTIrefugees.
Check out the photos from the campaign, AFTER THE JUMP…