Photos: Inside a gay club in Sochi.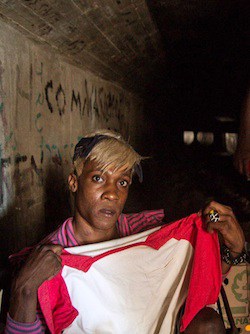 Some LGBT youths in Jamaica are forced to live in a sewer: "The aim of this operation was to remove men of diverse sexual orientation who continue to plague the New Kingston area."

VIDEO: Toronto Mayor Rob Ford shows off his dance moves.

State Department warns of new terrorist group posing threat in Africa: "The source of much of the concern is Mokhtar Belmokhtar, an Algerian militant who has long been a notorious figure in the Sahel region — a vast area on the southern flank of the Sahara that stretches from Senegal to Chad — and who appears to have become more dangerous even as his ties to Al Qaeda seem to have become more tenuous. Known as Laaouar, or the one-eyed, after losing an eye to shrapnel, Mr. Belmokhtar fought against a Soviet-installed government in Afghanistan."

Barney's New York returning to original Chelsea location: "I think it's the best idea," said Diane von Furstenberg. "It's so good. They should never have abandoned the Chelsea store, and this will bring them good luck because they're going back to their DNA."

Paul Rudd in negotiations for Marvel's Ant Man.

NBC anchor who blurted out "Let's get the f–k outta here" has been fired.

James Franco dangles for Ford Super Bowl commercial.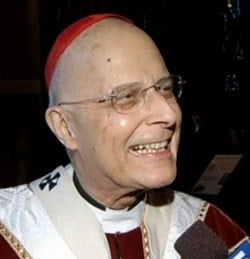 Gay activists protest outside dinner honor Chicago Cardinal George for 50 years in priesthood: "Andy Thayer, co-founder of the Gay Liberation Network, waved a rainbow flag as he walked in a circle in freezing weather with about 25 other people who meant to highlight George's opposition to gay marriage and other gay-rights issues. They chanted 'Arch Bigot, Good Riddance.'"

Georgia Representative Jack Kingston is the latest Republican to suggest that poor children should become janitors in exchange for food.

Joe Manganiello offers a behind-the-scenes look at his Muscle & Fitness workout. "My training is obviously about weightlifting and building muscle, but it's also about remaining athletic. It's about building the body, but it's also about teaching your body to adjust to its own weight, especially as you get bigger. And it's practical. I come from Pittsburgh, and the people in the gym in Pittsburgh aren't working out to look good because they've got a shoot coming up. They're working out because they want to be stronger, because it helps them in life."

Jennifer Lawrence's hotel maid found her cache of butt plugs.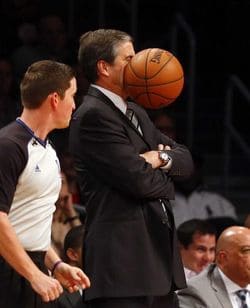 Ball captured at exact moment it hit the Wizards coach in the face.

Halley's Comet may be linked to famine 1,500 years ago: "A piece of the famous Halley's comet likely slammed into Earth in A.D. 536, blasting so much dust into the atmosphere that the planet cooled considerably, a new study suggests. This dramatic climate shift is linked to drought and famine around the world, which may have made humanity more susceptible to "Justinian's plague" in A.D. 541-542 — the first recorded emergence of the Black Death in Europe."

Abbey owner's new West Hollywood Gastropub causing commotion from local bar owner. "As a gay man and a West Hollywood business owner, I have serious concerns about the direction Boystown is headed in its development…"

Annual Analysis of LGBT Movement finds increased revenue and donors: "With a steady string of blockbuster victories, including the U.S. Supreme Court's striking down of Section 3 of the Defense of Marriage Act and the expansion of the freedom to marry to a growing number of states, the lesbian, gay, bisexual and transgender (LGBT) movement is benefitting from increased financial support. According to a new report by the Movement Advancement Project (MAP), LGBT organizations are projecting combined 2013 expense budgets of $165.6 million, a 10% increase from 2012 expenses."