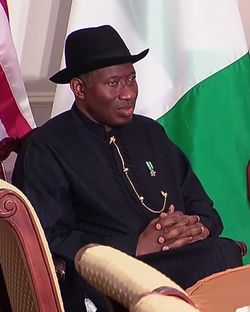 A universal law criminalizing LGBT advocacy and rights has passed the Nigerian senate and could soon move on to the country's president, Goodluck Jonathan (right). The bill has undergone several incarnations and passed through various levels of Nigeria's government, as Towleroad previously reported. Its current state is another step in Nigeria's ever evolving LGBT rights battle.
Introduced in its first form in 2006, the anti-homosexuality bill would be one of, if not the most, comprehensively damning anti-LGBT pieces of legislation across the globe. Though the bill's political progression through the house and senate has been shadowy to say the least, and more information is needed, western LGBT advocates are outraged and fearful at its overarching condemnation of LGBT person's rights.
Buzzfeed reports:
While the official text of the most recent version of the bill was not immediately available, Nigerian news reports suggested the version adopted on Tuesday closely follows the hardline version passed in the House, which would impose prison sentences of up to 14 years.
But a draft circulating that human rights activists believe to be the version adopted Tuesday would impose a maximum sentence of up to five years. It retains many of the House's proposals to criminalize of a broad range of LGBT activism.
"Any person who is involved in the registration of gay clubs, societies and organizations, sustenance, procession or meetings, publicity and public show of same sex amorous relationship directly or indirectly in public and in private is guilty of an offense and liable on conviction to a term of 5 years imprisonment," the draft states. It also would ban adoption by same-sex couples and would jail people who "aid and abet" same-sex marriages.
Because of the bill's unclear status, diplomatic efforts around it must be measured. Too strong a condemnation could lead to increased tensions, something African rights groups fear.
"We don't want an open confrontation," said Dorothy Aken'ova of the Nigerian sexual rights group INCRESE. "That would be bad for us."
…INCRESE's Aken'ova said that an outright veto was probably politically impossible for Jonathan; the legislation has passed overwhelmingly every time it has come up for a vote. Instead, she said, Jonathan could find a way to further delay it by asking for modifications to the parts of the bill that could violate the constitution.
This vote, she said, shows the legislature is determined to criminalize LGBT people, not simply ban same-sex marriage, she said.
"They did not hold back anything—now their true intentions are visible."