Back in October we told you about Out Gay World Champion gymnast Kalon Ludvigson and his embattled recovery after suffering an injury at a gymnastics camp that left him paralyzed. In September Kalon was moved to Craig Hospital in Colorado to seek special rehabilitative care. Now, according to an update posted to his Facebook page earlier this week, Kalon will be leaving Craig Hospital and returning home while he searches for other rehabilitation centers: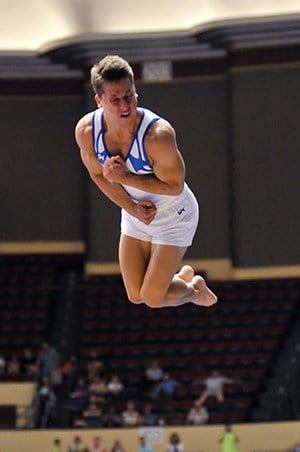 He will be leaving Craig Hospital on December 13th, and after traveling to a couple different cities, he will be returning home to Idaho, just in time for Christmas. Kalon is looking at a couple different rehabilitation centers throughout the country to possibly start in January 2014. But, that has not been finalized. […]
Kalon is in a manual wheelchair with power assisted wheels. He is able to transfer in and out of his chair with minimal assistance. Which is a huge improvement from when he arrived at Craig. 
Is there still a hope for more recovery? Sure, there is always hope! Kalon is a fighter, and hopefully he can keep his fighting spirit as times are getting tougher. 
As things change and life continues to move forward, its difficult to look towards the future and know what it holds. Kalon will have to build a new house that is adaptive to his needs as a quadriplegic […] Kalon wishes everyone a very happy holiday season and big thanks to everyone for continuing to support him!
You can contribute to Kalon's recovery be helping his GoFundMe account HERE. You can also check out Kalon's Facebook page for more information about how to support Kalon.