Pastor Ken Hutcherson, Washington state's lead crusader against same-sex marriage and former Seattle Seahawk, has died, Antioch Bible Church reports: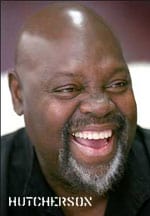 Antioch Bible Church sadly announces that shortly before noon today our Senior Pastor Dr. Ken Hutcherson was ushered into the presence of the Lord. Please pray for comfort and peace for the family. The family asked that you give them some privacy at this time. Please no phone calls or visit.
Hutcherson battled prostate cancer for more than a decade, the Seattle Times reports:
His slogan was "Black and White in a Gray World." Colleagues said that summed up both his conviction that Christians from all ethnicities, social and economic backgrounds should feel comfortable worshiping together and his belief that God's word is immutable and unchanging.
His supporters described him as a funny and happy person — remaining jovial even through prostate cancer — who had been mischaracterized as a hate-filled preacher.
His detractors, however, mostly in the gay, lesbian, bisexual and transgender community,  considered him a bully who used religion to campaign against the rights of gays to marry.