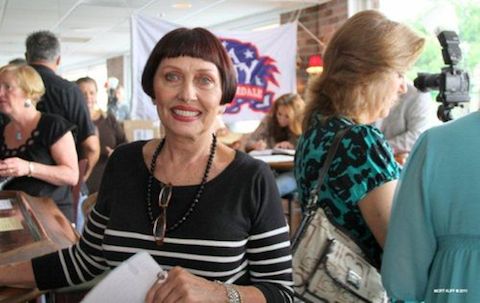 Co-founder of Tea Party Fort Lauderdale and Danita Kilcullen is absolutely losing it that the Log Cabin Republicans in Broward are actually having influence within the Republican party. In response to an email from Andy Eddy of the local Log Cabin Republicans, Kilcullen ranted:
We must fight with all we have… We must put  pressure on the House like has never been seen before.  I'll be damned if I will ever be forced to hire someone with orange hair, body/neck/face covered with tattoos, multiple piercings, or a man in a dress… or for that matter, a demonstrative effeminate male or purposeful butch-looking female.  The Log Cabins are the same lobbyist organization that has all but taken over BREC; and besides that, we have someone on the Board of BREC who is using her position to openly put pressure on some BREC members to stand for same-sex marriage.
Kilcullen, someone who isn't in the position to be denigrating the physical appearance of others, is a convicted criminal who was arrested in October 2010 for felony battery of a police officer but plead guilty to trespassing and a lesser charge of misdemeanor resisting arrest.