6. Here Lies Love: Downtown's answer to Evita, this immersive rock musical about Filipina First Lady Imelda Marcos featured an ingeniously catchy score by music legends David Byrne and Fat Boy Slim. Following a critically acclaimed run at the Public Theater and a one-night benefit performance at Terminal 5 for Typhon victims, producers are reportedly searching for a more long-term venue.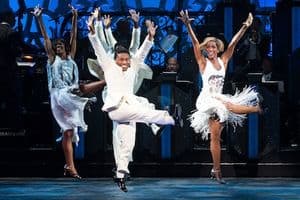 5. After Midnight: A radiant tribute to Harlem's golden age, this musical revue features the show-stopping talent of jazz musicians handpicked by Wynton Marsalis combined with a virtuoso company of singers and dancers. With direction and choreography by Warren Carlyle, the talented company makes it look easy, charging jubilantly (and tirelessly) through jazz standards by Duke Ellington and others. (Currently on Broadway)
4. The Laramie Project Cycle: Marking the fifteen-year anniversary of Matthew Shepard's death, the Tectonic Theatre Project presented searing productions of The Laramie Project and its follow up The Laramie Project: 10 Years Later at Brooklyn Academy of Music. Under the direction of Tectonic's resident director Moisés Kaufman and featuring many of the plays' original collaborators, the exquisitely performed and gut-wrenching revivals proved the project's lasting power.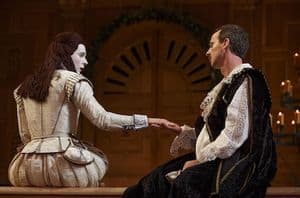 3. Twelfth Night: Mark Rylance making his debut as a leading lady may be the marquee draw for this all-male production from Shakespeare's Globe (in repertory with Richard III), but it's hardly the only highlight. An exceptionally talented company including Samuel Barnett as Viola, Paul Chahidi as Maria, and Stephen Fry as Malvolio make this authentic practice production a clear standout in a season crowded with Shakespeare. (On Broadway through Feb 16)
2. Belleville: In her superb drama about a young American couple living in Paris, playwright Amy Herzog follows the unraveling of an intimate codependence with uncanny precision—and insight that hits like a sucker punch. Directed by Anne Kaufman at New York Theatre Workshop with excellent performances from Maria Dizzia (Orange Is the New Black) and Greg Keller, Herzog's relationship play felt more like a quiet thriller.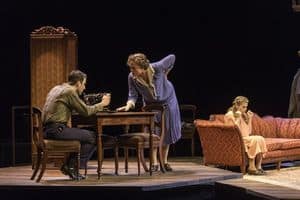 1. The Glass Menagerie: Featuring benchmark performances from Cherry Jones, Zachary Quinto, and Celia Keenan-Bolger, director John Tiffany's haunting revival cuts straight to the bone, clearing away any sentimental cobwebs usually associated with Tennessee Williams' classic. From a dreamscape set floating in the dark, to players whose every movement is like a thought remembered, its style is pitch perfect. (On Broadway through Feb 23)
Recent theatre features…
Follow Naveen Kumar on Twitter: @Mr_NaveenKumar (photos:michael j lutch, joan marcus, sanrda coudert, matthew murphy)