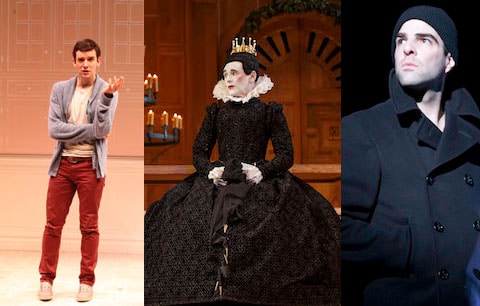 BY NAVEEN KUMAR
Tis the season for year-end lists, and 2013 saw a broad range of exciting theatre on New York stages. From energetic, transporting new musicals to no-frills revivals (OK, maybe the Shakespeare has some frills), there was hope for musical innovation, original direction that managed to make classic plays feel revelatory, and a thrilling batch of new plays from both young and well-established voices.
Read on for a countdown my top ten favorites.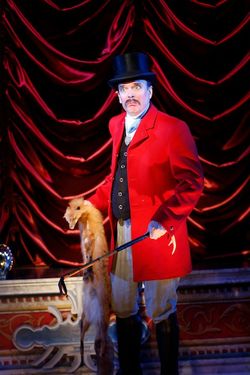 10. A Gentleman's Guide to Love and Murder: This highly entertaining new musical with book by Robert L. Freedman, music by Steven Lutvak, and lyrics by both combines the campiness of Monty Python with a delightfully twisted plot worthy of Shakespeare. A tireless Jefferson Mays plays all of eight heirs killed by a distant relation on his bloody path to claiming the family fortune. When a cast is having this much fun on stage, it's nearly impossible not to join in. (Currently on Broadway)
9. The Other Place: A carefully crafted story full of unnerving revelations, Shar White's psychological drama featured a magnetic performance by Laurie Metcalf as a neuroscientist slowly losing grip of her own mind. Manhattan Theatre Club's sleek Broadway production followed the play's acclaimed premiere at MCC, both nimbly directed by Joe Mantello.
8. Buyer & Cellar: Writer Jonathan Tolin's one-man play stars Michael Urie as a struggling actor hired to work in Barbara Streisand's basement, where her many wares are assembled into a little village for her browsing pleasure. Babs and her eccentricities are only one part of this hilarious, well-crafted comedy, which has found a downtown audience for its commercial run appropriately situated in the village. (Off Broadway at Barrow Street Theatre)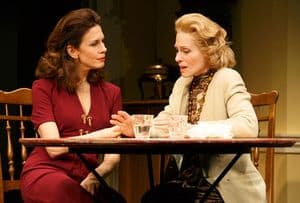 7. The Assembled Parties: Richard Greenberg's finely spun drama about a wealthy Jewish family (and their envy inducing Manhattan apartment) spanned twenty years—touching on mortality, ambition, legacy, and secrets kept for love, all with the playwright's expert hand at language and wit. Jessica Hecht was a quiet marvel, and the play gave Judith Light her second consecutive Tony Award for Best Featured Actress.
Countdown continues AFTER THE JUMP…
6. Here Lies Love: Downtown's answer to Evita, this immersive rock musical about Filipina First Lady Imelda Marcos featured an ingeniously catchy score by music legends David Byrne and Fat Boy Slim. Following a critically acclaimed run at the Public Theater and a one-night benefit performance at Terminal 5 for Typhon victims, producers are reportedly searching for a more long-term venue.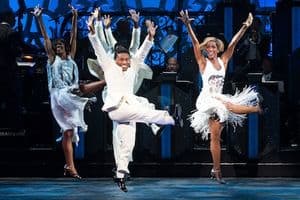 5. After Midnight: A radiant tribute to Harlem's golden age, this musical revue features the show-stopping talent of jazz musicians handpicked by Wynton Marsalis combined with a virtuoso company of singers and dancers. With direction and choreography by Warren Carlyle, the talented company makes it look easy, charging jubilantly (and tirelessly) through jazz standards by Duke Ellington and others. (Currently on Broadway)
4. The Laramie Project Cycle: Marking the fifteen-year anniversary of Matthew Shepard's death, the Tectonic Theatre Project presented searing productions of The Laramie Project and its follow up The Laramie Project: 10 Years Later at Brooklyn Academy of Music. Under the direction of Tectonic's resident director Moisés Kaufman and featuring many of the plays' original collaborators, the exquisitely performed and gut-wrenching revivals proved the project's lasting power.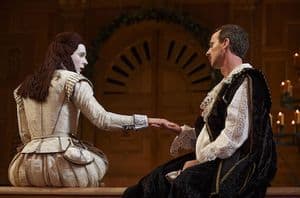 3. Twelfth Night: Mark Rylance making his debut as a leading lady may be the marquee draw for this all-male production from Shakespeare's Globe (in repertory with Richard III), but it's hardly the only highlight. An exceptionally talented company including Samuel Barnett as Viola, Paul Chahidi as Maria, and Stephen Fry as Malvolio make this authentic practice production a clear standout in a season crowded with Shakespeare. (On Broadway through Feb 16)
2. Belleville: In her superb drama about a young American couple living in Paris, playwright Amy Herzog follows the unraveling of an intimate codependence with uncanny precision—and insight that hits like a sucker punch. Directed by Anne Kaufman at New York Theatre Workshop with excellent performances from Maria Dizzia (Orange Is the New Black) and Greg Keller, Herzog's relationship play felt more like a quiet thriller.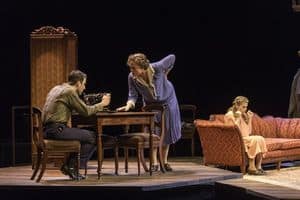 1. The Glass Menagerie: Featuring benchmark performances from Cherry Jones, Zachary Quinto, and Celia Keenan-Bolger, director John Tiffany's haunting revival cuts straight to the bone, clearing away any sentimental cobwebs usually associated with Tennessee Williams' classic. From a dreamscape set floating in the dark, to players whose every movement is like a thought remembered, its style is pitch perfect. (On Broadway through Feb 23)
Recent theatre features…