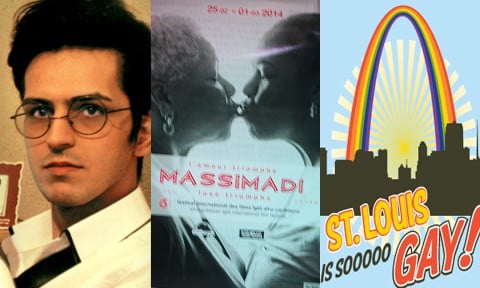 From time-to-time we highlight LGBT projects on Kickstarter to inform you about up-and-coming indie LGBT art projects. Our round-up this time includes a banned book of poetry, a black LGBT film festival and a gay monogamy sitcom inspired by The Golden Girls.
While funding online projects has its risks, two of the three projects we highlighted last time made their fundraising goals, which is pretty cool.
See three projects worth checking out AFTER THE JUMP…
THE GAY POETRY IRAN DOESN'T WANT YOU TO SEE
Being gay is punishable by death in Iran. Poet Payam Feili knows this. He grew up there and his first book got censored by the country's Ministry of Culture and Islamic Guidance. He has had to publish his subsequent works outside of the country just to be heard.
He'd like to translate his most recent book The White Field into English so that readers around the world can know the hope and despair gay Iranians faces amid the love and brutal homophobia of Iran.
BEST REWARD: £10 gets you a 2GB USB drive with a digital copy of The White Field on it — score!
FUNDING GOAL: £7,000 by Thursday Jan 2 at 8:54am EST. 
LGBT FILM COMES IN MANY COLORS
MASSIMADI, Montreal's annual Black LGBT Film Festival needs your help! The week-long event takes place during Black History Month and focuses on films depicting African and Caribbean LGBT life.
Last year, the event had 200 volunteers and 8000 attendees involved in seven days of panels, conferences and support gatherings with filmmakers, actors and activists.
Black voices are amongst the least heard in LGBT media. MASSIMADI helps keep those voices thriving, but an event this big and groundbreaking doesn't happen on its own. Your donation could help the festival have its sixth successful year.
BEST REWARD: $50 Canadian dollars will snag you a Twitter and Facebook shout out from the festival, your name in the official program and an unlimited festival pass — not too shabby!
FUNDING GOAL: $5,000 CAD by Friday Jan 10 at 11:59pm EST. 
FINALLY, A GAY SERIES ABOUT MONOGAMY
Face it—most gay web series are about guys cruising for c-ck in New York or LA. That's good and all, but it can leave committed couples feeling a bit under-represented.
Mollies and Tommies wants to change that. It's a 10-episode web-comedy that follows four friends — one gay couple and one lesbian couple) as they navigate relationships, work, and prejudice in suburban St. Louis. Oh and it reportedly takes its influence from Golden Girls — "Thank you for being a friend!!"
The director Peter Lilly says, "The plots and settings aren't based around big city living… It will be written and starred with normal people. The actors are beautiful people, but no models here… It seems you have to live in New York or LA to produce great films. Help me prove the system wrong."
BEST REWARDS: For $25 you get a digital copy of the series and for $125 you can make a 3-minute guest appearance on the show (travel to St. Louis not included), plus a bunch of other behind-the-scenes goodies.
FUNDING GOAL: $80,000 by Wednesday Jan 8 at 11:00pm EST.