Laverne Cox, the transgender actress famous for playing the trans inmate Sophia in the Netflix series Orange is the New Black is working on a documentary about the 2011 attack upon and subsequent imprisonment of transgender woman CeCe McDonald.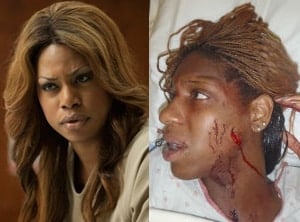 For those of you unfamiliar with the case: Around midnight on June 5, 2011, 23-year-old CeCe McDonald was verbally and physically assaulted by Dean Schmitz and his friends. They called McDonald's group a bunch of "ni–ers" and "faggots" and Schmitz himself said, "Look at that boy dressed like a girl tucking her dick in."
Schmitz's ex-girlfriend Molly Flaherty allegedly broke a cocktail glass across McDonald's face, tearing open her cheek. And as the two groups began fighting, McDonald tried to flee; Schmitz pursued her. McDonalds ended up stabbing Schmitz in the chest with a pair of scissors from her purse — he later died from that wound.
McDonald was sentenced to 41 months in a Minnesota men's prison for second degree manslaughter and is reportedly scheduled for a January 13, 2014 release followed by another 13 months of supervised release.
Cox, who got to meet with McDonald several times over the course of the documentary, told Persephone magazine:
"CeCe's story is one that should have been covered more in the press. Trans women, particularly trans women of color, experience disproportionate amounts of violence and not enough is being done to eradicate that violence. CeCe's story in so many ways encapsulates the intersectional issues that lead to far too many of us experiencing violence. I wanted to do a piece that explores the nature of how race, class and gender affect violence towards trans women and also give CeCe a space to tell her story in her words in the context of a piece that truly values the lives of trans women of color."
In the same interview, Cox's co-producer Jac Gares cites a 2012 National Coalition of Anti-Violence Programs report stating that of 25 anti-LGBT homicide victims in 2012 53.8% were transgender women and 73.1% were people of color.
You can help fund the documentary here.