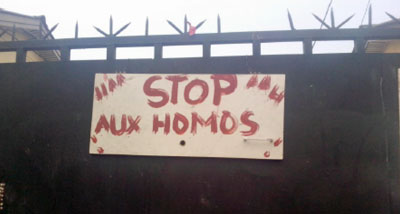 Anti-gay animus is ramping up in Ivory Coast. The headquarters of the African nation's most prominent LGBT rights organization was attacked over the weekend, the AP reports:
Nearly 200 people stormed the offices of Alternative Cote d'Ivoire in Abidjan, the capital, on Saturday afternoon, breaking windows with stones and stealing computers and other equipment, said Claver Toure, the group's executive director.
"Everything they could take was taken, and the rest was broken," Toure said, adding that a private security guard was hospitalized with wounds to his face.
Toure criticized what he described as a deliberately slow response by security forces. Government spokesman Bruno Kone and Interior Ministry spokesman Bazoumana Coulibaly both said they were unaware of the attack Monday morning.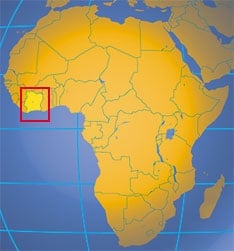 The ransacking is just one in a series of "coordinated" attacks LGBT rights groups say, and more are planned for this weekend.
76 Crimes reports on similar attacks last week:
Ivory Coast has its share of people who dislike homosexuals, but it is not one of the 76-plus countries with laws against homosexuality. In fact, in 2011 Touré described the country as an "El Dorado" for LGBT people, at least in comparison to many other African countries.
That aspect of the country was not visible on Jan. 20.  Soon after returning home from work shortly before 7 p.m., Touré said, the three Alternative CI staff members noticed that a crowd of about 60 people had assembled outside, whistling and banging on pots and pans. They threatened the occupants of the "faggot house," shouting, "We will kill them," "We don't want fags in our city," "We don't want people with AIDS in our neighborhood," "We'll kill you all," "We don't want people working with AIDS and queers here," "Damn you! We'll burn your ass."
The mob kept up the racket as it tried to break down the doors of the house  with rocks and metal bars.  They threw garbage and human excrement, then prepared Molotov cocktails to burn the building and the people inside. The police arrived just in time to intervene.
Touré, along with the assistant coordinator and the human rights/legal officer of Alternative Cote d'Ivoire, were trapped in the house for more than an hour until police were able to smuggle them out safely.