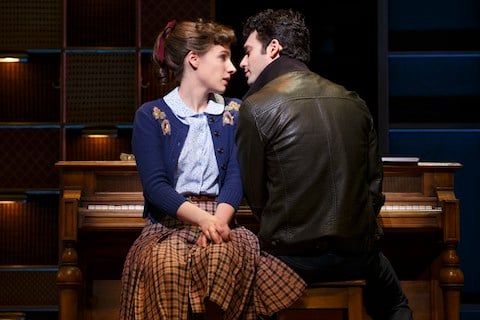 In the nearly 15 years since Mamma Mia! shimmied open on Broadway, a glut of nostalgic jukebox musicals hoping to replicate its startling success have prompted groans from the throats of theatre cynics and lovers alike. Beautiful: The Carole King Musical, which opened on Broadway Sunday at the Stephen Sondheim theatre, will likely replace those groans with full-throated laughs and the distinct thrill of witnessing a star finally land her breakout role.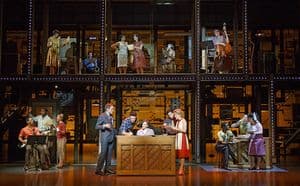 From determined teenage songwriter busting down doors to acclaimed vocalist taking the stage at Carnegie Hall, Jessie Mueller's sensitive, seamless performance as Carole King demands a certain rapt attention—even for those who know quite well how the story goes. Tony-nominated for her performance in last season's short lived On A Clear Day You Can See Forever, as King Mueller is candidly funny, ambitious, and self-deprecating in a way that recalls another scrappy Brooklyn girl, Barbra Streisand.
Mueller's voice makes oft-heard (and sometimes dusty) classics like 'Will You Love Me Tomorrow' and 'It's Too Late' sound fresh, as if being played for the first time — which is the context in which we hear a great many of the hits written by the show's songwriter subjects.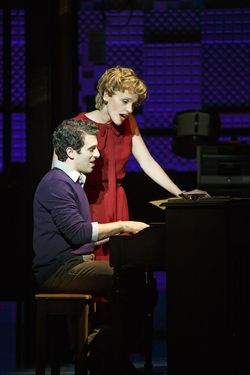 Beautiful has more than a little in common with that other all-you-can-sing-along buffet of baby boomer nostalgia, Jersey Boys, about Frankie Valli and the Four Seasons. Similarly made up of sentimental hits from the bountiful, cross-pollinated crop of doo-wop and rock n' roll that dominated the era's airwaves, Beautiful follows an artist's exhilarating rise to fame and, eventually, the parallel demise of her personal life.
Skipping straight to her lucky break, Carole quickly meets and sparks a romance with collaborator Gerry Goffin (Jake Epstein) and begins writing hit songs for groups like The Shirelles and The Drifters. Meanwhile, competing songwriting team Cynthia Weil (Anika Larsen, excellent) and Barry Mann (Jarrod Spector, also great) also strike up a romance, take up residence in the studio next door, and the couples become fast friends in their arms race to the top of the Billboard charts.
Back and forth competition between the songwriting teams takes up a lengthy portion of the first act, in which songs like 'Some Kind of Wonderful,' 'On Broadway,' and 'The Locomotion' please the crowd while doing little to move the story forward. Hits like 'Walking in the Rain' and 'It's Too Late' are increasingly integrated into the story of the second act, which finds Barry and Cynthia working out their relationship and Carole writing deeply personal songs on her own.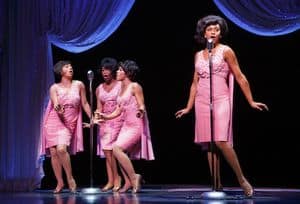 Though like Jersey Boys its plot mechanics don't much exceed standard E! True Hollywood Story fare, as written by screenwriter Douglas McGrath the story clips along briskly, with sharp, memorable moments of wit and insight at nearly every turn. Oscar-nominated for his screenplay collaboration with Woody Allen on Bullets Over Broadway, McGrath writes with a refreshing, smart humor that firmly engages the audience in a relatively simple story.
Choreography by Josh Prince is (perhaps necessarily) a bit hokey while solid direction by Marc Bruni keeps the action moving fluidly across Derek McLane's stylish, efficient set. Though by final curtain Beautiful may seem like a one-sided story, with Carole's philandering ex Gerry as the clear villain to her flawless heroine (as played by Mueller), she's an idol worthy of her pedestal. 
Recent theatre features…
Towleroad's Top Ten Best Plays and Musicals of 2013
Ethan Hawke Stars In 'Macbeth' on Broadway: REVIEW Sarah Jessica Parker and Blythe Danner Open Off Broadway In 'The Commons of Pensacola': REVIEW All-Male Productions Of 'Richard III' and 'Twelfth Night' Open On Broadway: REVIEW 'After Midnight' Guest Starring Fantasia Barrino Brings Cotton Club to Broadway: REVIEW  
Follow Naveen Kumar on Twitter: @Mr_NaveenKumar (photos: joan marcus)