Dave Agema, the notoriously anti-gay RNC committeeman who, in the past has said that gays falsely claim people with AIDS as their lovers in order to cheat the system and get free medical benefits, now appears to have sided with Russia's anti-gay propaganda law. The Washington Blade reports: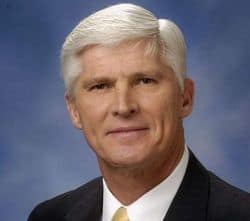 Dave Agema, former member of the Michigan House, expressed support for the controversial measure via Facebook posting on Tuesday, according to two sources who are able to see the message and an apparent screenshot of the link.
"Read their law. Common sense in Russia," Agema apparently wrote in a link to a Jan. 6 posting from the Illinois Family Institute, titled, "Russia's Anti-Propaganda Law Riles Pro-Homosexuality Crowd."
The posting mitigates the threat of the anti-gay law in Russia by noting it emphasizes that it prohibits propaganda directed to minors, saying the fine incurred for breaking the law "hardly sounds unreasonable…for trying to inculcate other people's children with their subjective beliefs about sexual morality."
Meanwhile, Agema's over-the-top opposition to homosexuality has again ruffled feathers with members of his own party. Dennis Lennox, a Republican precinct delegate in Grand Traverse County, blasted Agema for siding with Vladimir Putin's oppressive regime: 
"This is outrageous that a leader of the National Republican Party, my political party, is siding with an autocratic regime that believes in arresting political opponents, censoring reporters, jailing dissidents and eliminating free speech," Lennox said. "Russia and the Putin regime — other than maybe Iran, North Korea and China, is the last regime the Republican Party or one of its leaders should associate itself with."
Lennox hopes the RNC brings up Agema's position on Russia's anti-gay laws during its winter meeting in Washington D.C. later this year.
Former execuctive director of GOProud Jimmy LaSalvia also spoke out against Agema:
"Every time Agema or someone said something like this — not as bad as this — they've always said, 'We need to treat everyone with dignity and respect on issues like that, he doesn't speak for the RNC, etc.,'" LaSalvia said. "They've never denounced what he said and said he's wrong, and that's what they need to do, but nobody over there seems to have the guts to denounce him.