Following the publication of an open letter from his lesbian daughter Gigi yesterday, Hong Kong billionaire Cecil Chao has withdrawn his multi-million dollar offer to any man that can successfully woo her, CNN reports: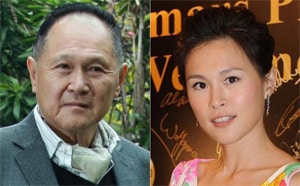 Cecil Chao, a wealthy real estate developer, made headlines around the world in 2012 when he offered 500 million Hong Kong dollars (roughly $65 million) to any man who succeeded in marrying his daughter.
 $64M to marry my gay daughter
Recent reports that he was willing to double the offer put his family back in the headlines…
…"If Gigi's said that this is what she chooses, then it's all over," Cecil Chao said Thursday an interview with CNN's Monita Rajpal. He said the huge sum he had offered to potential suitors "stays in my pocket."
But the 77-year-old tycoon, who has three children but has never married, is unable to embrace his daughter's love life.
"I can't say I am happy with her choice," he said. "If this is her choice then it's for her."
And he said he wouldn't be welcoming Eav, 46, into his family, despite his daughter's plea.
Said Gigi in the letter:
"I am comfortable and satisfied with my life and completely at ease with her. I know it's difficult for you to understand how I could feel romantically attracted to a woman; I suppose I can't really explain it either. It just happens, peacefully and gently, and after so many years, we still love each other very much. My regret is that you have no idea how happy I am with my life, and there are aspects of my life that you don't share."