Pop singer and gay American Idol runner-up Clay Aiken is considering a run for Congress in North Carolina, according to sources who spoke to the Washington Blade: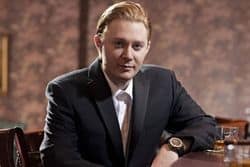 One Democratic source said Aiken  made phone calls to gauge support, talked to the Democratic Congressional Campaign Committee and has met with figures in Raleigh, N.C., about a potential bid. Although it's unclear when Aiken might formally announce a decision, the source said Aiken is "actively considering" it and "sounding and acting like a candidate."
To help explore a run, the source said Aiken has been working with Betsy Conti, a Raleigh-based political strategist who's worked for former North Carolina Gov. Bev Purdue and Democratic presidential nominee Al Gore in addition to serving as Maryland's deputy labor secretary in the Glendening administration. It's unclear whether Aiken has formally hired her or anyone else to help with his bid.
Another Democratic source said Aiken was in D.C. last month meeting with pollsters at Hart Research Association to examine polling data with one of the partners at the firm.
The seat Aiken would be planning a run for is held by Rep. Renee Ellmers (R-N.C.). Aiken would need to file to participate in the primary by Feb. 28, according to the Blade.