David Mixner has been involved in public life, policy, business and a writer for over fifty years.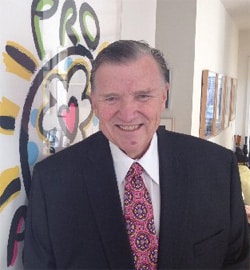 Mr. Mixner is the author of the critically acclaimed best-selling memoir, Stranger Among Friends and the number one bestseller Brave Journeys. His third book, At Home With Myself, was released last year. In addition, he has written two screenplays, numerous articles and the stage play Jacob's Ladder. His screenplay, written with Richard Burns, Dunes of Overveen won the Outfest MTV Award for Best New Screenplay and is currently in preparation for filming.
A film on Mr. Mixner's life called The Unacceptable is in pre-production.
Over the years, Mr. Mixner has worked in over seventy-five campaigns as campaign manager, fund-raiser or strategist. Among those campaigns have been Clinton for President (Senior Campaign Advisor), Hart for President (National Co-Chair), Gephardt for President, McGovern for President, Bradley for Mayor, Brown for Governor and Senate, etc. He also has worked on numerous initiative campaigns including No on Six (School Teachers), No on Sixty-four (AIDS Quarantine), and No on Eleven (Energy Tax)
Mr. Mixner has over the years raised over $40 million for candidates and charity organizations and over two million dollars for openly gay and lesbian candidates across the country
Mr. Mixner is currently a successful international public affairs/strategic-planning consultant with an expertise in community organizing and strategic planning. He is currently working on projects involving equality, poverty and international human rights issues. In addition, he continues his work fighting HIV/AIDS internationally.
Mr. Mixner has been an unofficial advisor to numerous elected officials on domestic and foreign policy. His reputation as a strategist and implementor is nationally known. Numerous universities, including Oxford, Harvard, Yale, Stanford, UCLA, Princeton, London School of Economics, etc. have invited him to lecture. He has debated at the Oxford Union.
He was an Executive Producer on the award-winning documentary called House on Fire about HIV/AIDS in the African-American community.
Mr. Mixner has received numerous awards and honors.