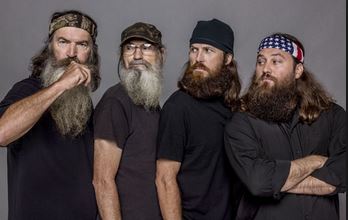 Duck Dynasty returned to A&E last night for its fifth season, and the ratings are down following controversy over Phil Robertson's anti-gay remarks, EW reports:
Wednesday night's Duck Dynasty season 5 premiere had 8.5 million viewers. That's huge for a cable reality show, but down 28 percent from its record-setting fourth season debut in August (11.8 million). It's also slightly down from the show's third season premiere in February last year (8.6 million). A&E notes the number up slightly from the fourth season finale on Oct. 23 (though obviously it's standard to compare premieres to premieres).
Robertson was placed on a short hiatus following the remarks and got a scolding from A&E and a few sponsors, but didn't end up losing a single one for his statements in GQ, in which he said homosexual sinners were going to hell like terrorists, prostitutes, and drunks.