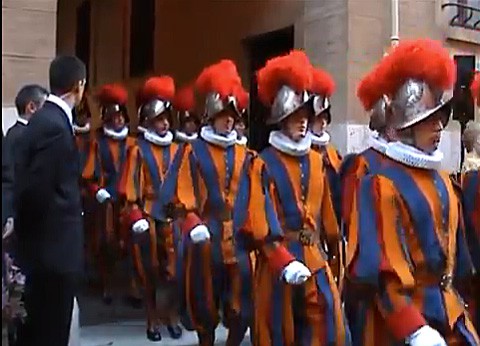 A former member of the Swiss Guard, which provides the Pope's security, says he was solicited for sex more than 20 times during his service at the Vatican by cardinals, bishops, priests and other members of the so-called 'gay lobby', The Local reports:
The former guard told weekly newspaper Schweiz am Sonntag that he received up to 20 "unambiguous requests" from members of the clergy, including a dignitary close to Pope John Paul II.
His experience in the 110-man security force, he said, gave credence to reports that a "gay lobby" is active in the Vatican.
The former guard recalled being called in the middle of the night by a senior official who invited him into his room. In another case, he found a bottle of whisky in his room with a visiting card left by a bishop. A priest, he said, invited him to dinner, saying that the guard would serve afterwards as dessert. He also claimed that a high official fondled him.
The ex-guard said that he reported the cases to his superiors, complaining of harassment, but received no support for his allegations.
The Vatican has dismissed the claims, calling them "not credible".