Two married gay couples are suing the state of Kansas over its instructions that same-sex couples continue to file their state tax returns separately, the AP reports: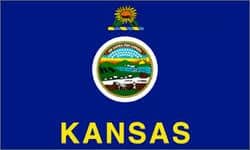 The lawsuit, filed Monday, alleges that the state Department of Revenue is violating state tax laws that tie the Kansas income tax code to the federal code, noting that the Internal Revenue Service recognizes unions from states in which gay marriage is legal, allowing joint filing. The lawsuit also says the state agency exceeded its authority by imposing what amounts to a new regulation without first seeking public comment or standard legal reviews.
The Department of Revenue issued a notice in October, "Guidance for Same-Sex Couples," spelling out the policy. It requires each person to file either as an individual or head of household. The lawsuit seeks a court injunction blocking the department from enforcing the policy and a ruling that the policy is discriminatory.
Tom Witt, executive director for Equality Kansas added:
"In Kansas all married persons have to use the same income and tax status and information on all tax returns," Witt said. "There is no separate law for legally married same-sex couples, and the state shouldn't be making separate rules that penalize or stigmatize married gay and lesbian Kansans."