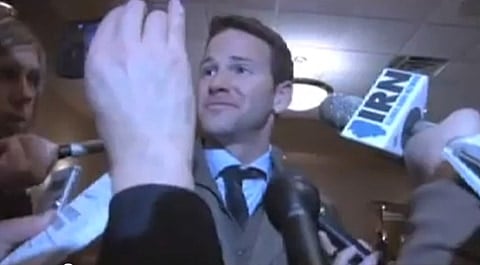 Rep. Aaron Schock (R-IL) locked down his Instagram account today amid renewed rumors on social media that he is gay. Rumors that Congressman Schock is gay are not new, and the reason that they continue is purely because of his positions on issues such as marriage equality, and that being an out gay man would also make him a very public hypocrite.
Not only is Schock opposed to same-sex marriage, he supports a federal marriage amendment, opposed repeal of 'Don't Ask, Don't Tell', opposes the repeal of DOMA and voted against adding sexual orientation to federal hate crimes statutes.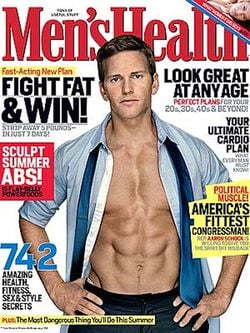 Many of the gay rumors surrounding Schock seem to be tied to his obsessive attention to his body, as well as that of other Republican congressmen. Schock, who has been accused of misusing campaign funds to further an exercise habit, flaunted the results of that regimen in a Men's Health cover story last May after which he became known as the Congressman with the abs. In June 2010, a photo of Schock at a White House picnic in white jeans, an aqua belt, and purple gingham shirt posted by Gawker (above) sent the gay rumors into overdrive. Schock later tweeted that he "burned the belt" after the photo went viral.
Schock has also denied he is gay.
The latest rumors were brought to a head today after a post on Facebook by journalist Itay Hod went viral. Writes Hod in the post:
here's a hypothetical: what if you know a certain GOP congressman, let's just say from Illinois, is gay… and you know this because one of your friends, a journalist for a reputable network, told you in no uncertain terms that he caught that GOP congressman and his male roommate in the shower… together. now they could have been good friends just trying to conserve water. but there's more. what if this congressman has also been caught by tmz cameras trolling gay bars. now what if you know that this very same guy, the darling of the gop, has also voted against repeal of don't ask don't tell, opposed the repeal of doma, is against gay marriage; and for the federal marriage amendment, which would add language to the us constitution banning gay marriage and would likely strike down every gay rights law and ordinance in the country?

Are we still not allowed to out him? 

let me ask another question… doesn't the media have an OBLIGATION to expose his hypocrisy? if he had done something so hypocritical and he wasn't gay, wouldn't we demand journalists do their job? but they can't… because we won't let them. you're not allowed to out ANYONE, we tell them. 

we've created a situation where even though news organizations know this guy is gay, they can't report it because he hasn't said so on twitter. 

if we keep saying that being gay is genetic; ergo, it's no different than having blue eyes or blonde hair… than why are not allowed to mention it? why do we need anyone's consent to talk about their sexuality? are we not allowed to say someone has blue eyes until they post a fb message telling us they are in fact blue?
Hod's post to Facebook appears to have been inspired by a post blogger John Aravosis posted to Americablog on Thursday which hypothesized that Schock might be gay based on interpretations of photos from his Instagram account.
What is lacking so far in any of the discussion, as amusing or voyeuristic as it may be, is any sort of direct testimony or evidence of Schock's sexual orientation.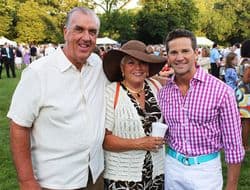 Can someone be "outed" by a belt? Or for the care they take of their body? Or something heard from a friend of a friend of a friend? Is determining someone's sexual orientation based on how they look an appropriate avenue because the person is a villain, or is it simply undercutting the LGBT community's arguments against stereotypes and defamatory phrases like "that's so gay"?
In any case, Schock appears to be closing the window to prying eyes as a result of all this chatter, and that may just be the catalyst that drives people to look for the evidence that is needed to expose him.